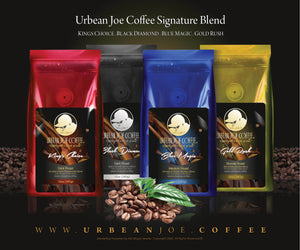 Urbean Joe Coffee International
Urbean Joe Coffee is a Cleveland, Ohio based independent coffee company founded in 2009 by Joe N. Little, III and Terrell Howard it is one of the most sought after independent coffee brands in the United States.
K-CUPS - Buy one Get ONE FREE
The wait is over, Dynasty is HERE, an everyday all day coffee. The richly roasted beans are a rich and smooth dark medium roast.

Sale price $12.99

Order today
Urbean Joe Coffee Selections
---
BECOME AN URBEAN JOE COFFEE BRAND AMBASSADOR
You will get 10% commission on total referral sales when a customer makes a purchase through your customized brand ambassador link. Sign up to become a Brand Ambassador today.
Register